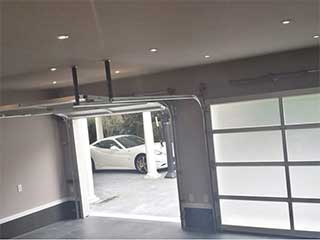 Your overhead door system can be susceptible to a wide range of issues, and making sure those that can be prevented are in fact preemptively treated is a great way to reduce the risks and minimize the system's gradual wear and tear.
The Main Priority
The springs that support the weight of your garage door panels and help them move require some additional care compared to other parts of the system. Our technicians will check these components to make sure their coils aren't deformed, lubricate them and make sure that their tension is properly adjusted. If spring replacement is required, we'll perform it right then and there. This will help prevent unexpected breakdowns and extend the longevity of your torsion or extension springs by a considerable amount.
The Guiding Parts
Your garage door tracks are another key focus point of our maintenance service, as they can develop rust over time and may even become bent. Both of these can cause various malfunctions, potentially even ones that involve the door getting off track. By having our experts check these components, make sure they're clean and unobstructed and verifying their alignment is correct, you'll be able to avoid a lot of similar scenarios. As for the rollers, they will receive some TLC as well. We'll make sure they aren't worn and lubricate them to keep their movement efficient and smooth. If they need to be replaced, count on us to do so on the spot.
The "Eye" Exam
Your garage door opener uses a pair of photoelectric sensors in order to alert it when there's something or someone under the door, so that it won't close until the obstacle is gone. However, misaligned sensors will fail to function properly, and may even cause the door to start reversing needlessly. Our technicians will check the position of these crucial components and perform some tests that will determine whether sensor realignment is required. Your safety is very important to us, which is why we'll take extra care making sure that these components are completely functional.
The Time Is Now
If there's anything our team at Garage Door Repair Maple Grove can do for you, we'd be more than happy to help. Give us a call today and find out more about our regular maintenance service.
In addition, count on us for:
Garage Door Remote Clickers
Garage Door Safety Inspections
Screw Drive Opener Replacement
Broken Garage Door Track Repair