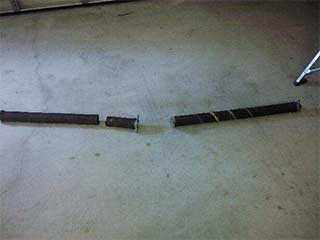 There are two types of garage door springs that are in common use today, and although there could be a lot of variation among them, all the different options can be divided into these two types. Dealing with these components is always dangerous, as their operation involves an incredible amount of tension, and any mishandling could lead to serious injuries. For that reason, professional assistance is always required, which is when you should reach out to our team.
Two Different Kinds
Extension springs used to be the most popular type used for residential doors. These components work by stretching and contracting in order to lower and raise the panels and support their weight. They are the older type, though, and aren't necessarily the preferred choice anymore due to the fact that they don't last as long as their counterparts (which we'll mention in a moment) and aren't as strong either. Torsion springs were originally designed to be used to support heavier garage doors, as they twist and unwind in order to help the panels move, and are more flexible and durable. They are set up horizontally above the door, and therefore require a certain amount of headroom space. Although they are considered safer, they can still break and are still dangerous to handle without the right tools and the professional training.
Spring Replacement Done Right
The tension of garage door springs is their power but also their main threat. It's not a coincidence that our professionals respond as fast as possible when a customer calls us regarding a situation involving a broken spring. We make an effort to resolve these sorts of issues fast in order to avoid the dangers this type of malfunction presents. Even the task of spring adjustment can be dangerous, as it involves testing and altering the tension these components are under and
Safe And Sound(less)
Whether you have a single torsion spring or a set of extension ones, our professional technicians will be able to help you. Our maintenance service includes regular spring lubrication and adjustment, which is a great way to ensure that these components are able to stay functional and operate smoothly and quietly for a long time. Call our experts at Garage Door Repair Maple Grove today and let us handle whatever you need.
Our team can also take care of:
Garage Door Opener Maintenance
Opener Sensor Repair & Replacement
Broken Garage Door Spring Replacement
Emergency Garage Door Repairs